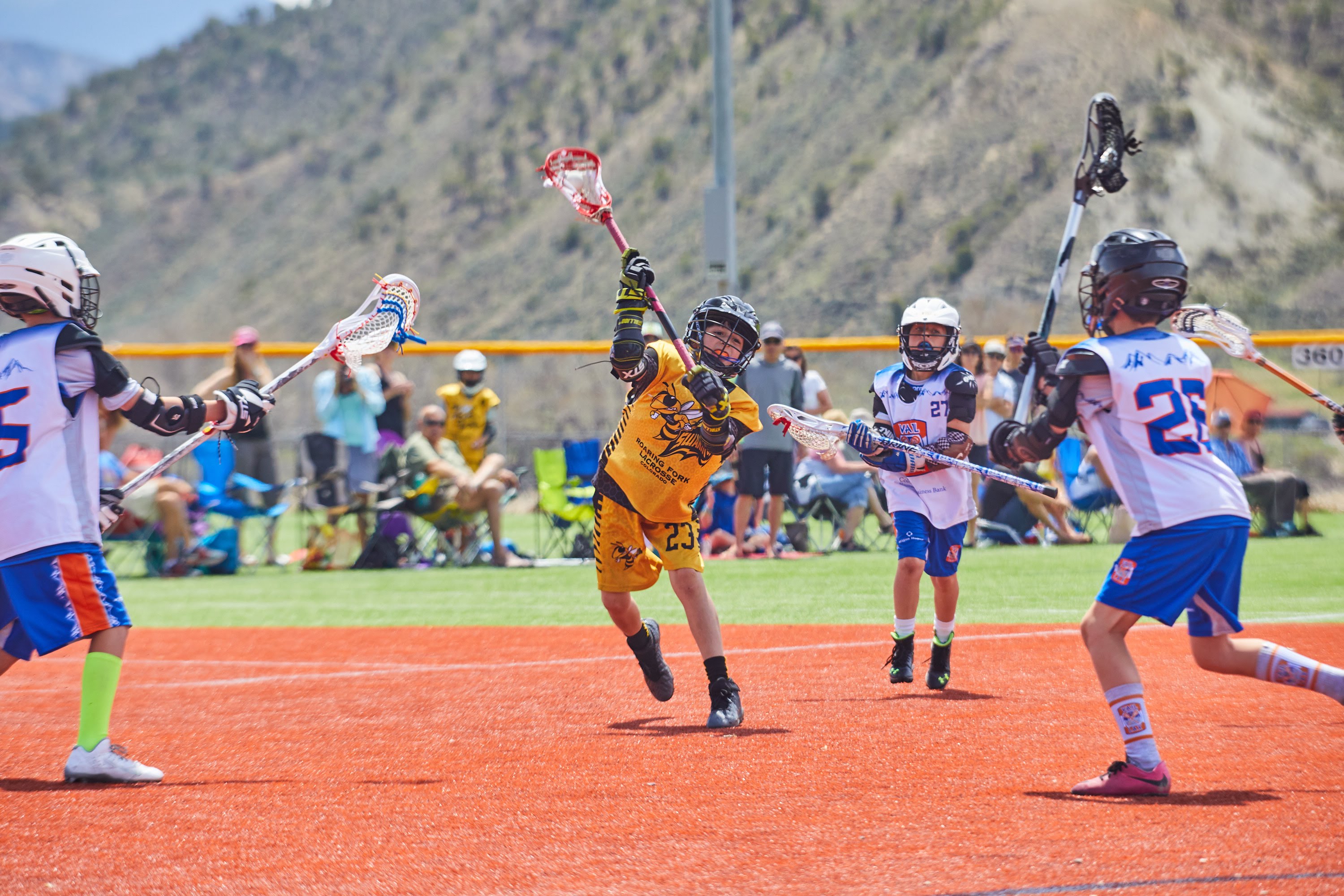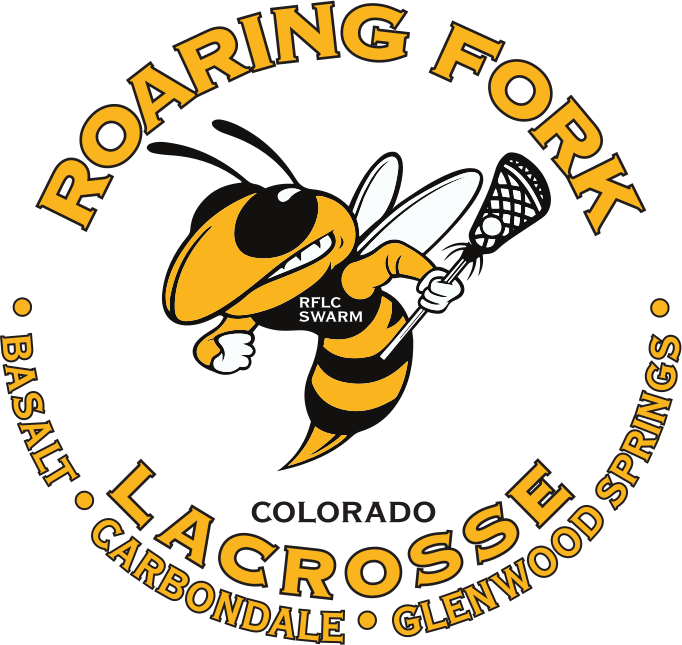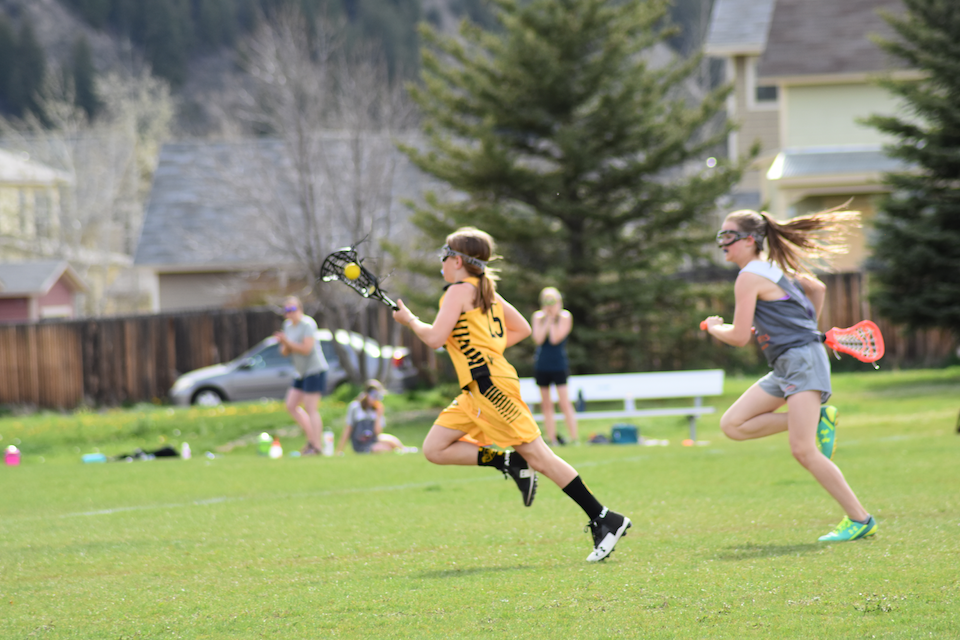 ---
Support Swarm Nation!
We appreciate your continued support for RFLC!
Order SWARM GEAR below
Email
Connect with us:
ROARING FORK LACROSSE CLUB Mission Statement 
Creation of a youth program to respect, educate and enjoy the sport of lacrosse.

To promote physical fitness and teamwork in our Valley's youth.

To serve as a community asset in bringing the Valley's lacrosse population together thru the sport promoting leadership, accountability and camaraderie.
ROARING FORK LACROSSE CLUB [RFLC] is a non-profit 501(c3) organization providing the youth of the Roaring Fork Valley the opportunity to learn and participate in the fastest growing sport of Lacrosse.  RFLC serves the RE-1 school district (Basalt-Carbondale-Glenwood Springs and beyond), and as a feeder program for the High School lacrosse teams which represent our district - boys (Glenwood Springs HS) and girls (Roaring Fork HS).  RFLC volunteers are dedicated to promoting the sport of lacrosse and to developing our players lacrosse skills, sportsmanship, teamwork and accountability in a healthy and fun environment.
RFLC SWARM SUMMER CLINICS ANNOUNCED !!!
RFLC SWARM THANKS ALL PLAYERS, PARENTS AND OUR SPONSORS FOR A WONDERFUL SPRING SEASON!  PLEASE SAVE THE DATES FOR OUR FALL SEASON WHICH WILL BE SEPTEMBER 21 - OCTOBER 21 WITH PRACTICES ON TUESDAYS AND THURSDAYS - 5:30PM-7PM.  REGISTRATION WILL OPEN IN AUGUST THIS SUMMER SO STAY TUNED!

WE ARE THRILLED TO ANNOUNCE BOYS SUMMER CLINICS THIS JULY FEATURING D1 PENN STATE UNIVERSITY PLAYERS:

TJ MALONE - ATTACK
DANIEL REAUME - MIDFIELD

MALCOLM GLENDINNING - DEFENSE

THESE CLINICS WILL FOCUS ON POSITION SPECIFIC DEVELOPMENT AND ARE AVAILABLE AS FOLLOWS:

TUESDAYS - JULY 6, 13, 20 & 27 - 5:30PM - 7PM

RISING 7TH AND 8TH GRADE BOYS

LOCATION: WILLITS RUGBY FIELD - BASALT

THURSDAYS - JULY 8, 15, 22 & 29 - 5:30PM - 7PM

HIGH SCHOOL PLAYERS (INCLUDING RISING FRESHMEN)
LOCATION: WILLITS RUGBY FIELD - BASALT
$200 / 4 SESSIONS

ALL PARTICIPANTS MUST HAVE CURRENT US LACROSSE MEMBERSHIPS!

NOTE: IF YOU PLAYED IN SPRING YOUTH LEAGUE YOU ARE COVERED UNTIL NEXT SPRING, HIGH SCHOOL PLAYERS PLEASE CHECK STATUS AND RENEW TODAY!

SPACE IS LIMITED SO DON'T DELAY - REGISTER TODAY!

REGISTRATION HERE - OPENS FRIDAY JUNE 25 @ 8AM!

We have also launched our first formal Development Campaign, the SWARM Initiative Fund, to celebrate the 10th Anniversary season of RFLC in 2021 and move us into the next decade.  The goal of these funds is outlined on the enclosed link (scroll down profile page to select campaign) and highlights new program initiatives including:
NCSA (Next College Student Athlete) Scholarships
Swarm Seniors - College Grants
RFLC Coaches Fund
RFLC Girls & Boys Program Directors
RFLC Operating Fund
This campaign was initially slated to launch last Feb and then the pandemic hit.  While we understand the challenges so many of us have had to endure, with confidence we have all created a community asset in RFLC for our Valley's youth, and are enthusiastic to come out of this pandemic setback with a renewed appreciation for providing an opportunity for our children to get outside (!) and enjoy the sport of lacrosse.  If able, please donate today to support RFLC - if not at this time, please spread the word on RFLC and SWARM Nation, we'd greatly appreciate it.  The campaign will run through 2021.
We look forward to another great season of RFLC lacrosse - thank you for your support!
---
THANK YOU TO OUR SPONSORS FOR ALL YOUR SUPPORT!
GO SWARM!